What to Look for in a Managed Service Provider (MSP)
Let's face it, everyone needs a little support at some point. COVID-19 opened the door to problems many businesses never thought they'd have to face, or at the very least prepare for. One major revelation was the demand for tech professionals with experience often outside the company's wheelhouse. As the need for additional skill sets and manpower grew, companies were searching for Managed IT Service Providers (MSPs) to supplement their internal IT teams. Not all MSPs are created equal, however, and finding an MSP who offers the level of support and skillset you need can either make or break your business and security goals.
So, if you're asking, "What should I look for in an MSP?" Fret not, we've broken it down for you.
Find an MSP who Gives you Service Options
Depending on the extent of work you need, finding an MSP who offers you different levels of service is an important requirement. Maybe you just need 24x7 help desk support. Or perhaps you need something more extensive like onshore support, or someone that can physically address issues within your business (a server goes down, etc.). A good blend of options would cover reactive IT Support, and proactive support (think strategy and planning).
Do You Need Reactive Support?
Reactive support is an option that might look like 8X5 access to engineers. You can still submit support requests 24X7 and expect a response time based on request priority.
If you think you need this option, make sure you find an MSP that has a robust selection of specialties and skill sets to choose from. These engineers should be able to deliver specialized IT services at levels beyond what can commonly be accomplished with individual onsite resources.
Pro-tip! If you need specialized backup from time to time, this option may be a better fit for you.
Do You Need Proactive Support and Strategizing?
IT services that follow a proactive model would ideally pair monitoring and management systems with customized alert delivery and dashboards. Flexible entry options that are tailored to suit the needs of your environment would be ideal. This approach would allow you to stay focused on your core business while your MSP handles your IT complexities. Again, not all MSPs provide this, so consider if it is a deal breaker and do your research!
A proactive and strategy-based service level from an MSP would ideally include:
Access to engineering specialists with varying skillsets that can deliver specialized IT services at levels beyond what can commonly be accomplished with individual onsite resources.

Proven processes and procedures to stabilize the environment and increase customer satisfaction. You should never have to spend precious time figuring out how an MSP got something done. Is consistency their specialty.

100% onshore support with a strong, local presence and international support if you require it.

Focus on strengthening the alignment between IT and business

Reduced costs through improved use of resources

Greater visibility of IT costs and assets

Better management of business risks and service disruptions

Mature automation capabilities
Now that you understand different service levels, the next preference you must consider is how you want your IT operations managed? Will you hand off the reins, co-manage, or maintain full management?
IT Management Style Options
Many IT departments still maintain their own environments using staff and systems under a direct ownership model. While this approach works for many departments, it is not the only option you have when looking for an MSP.
Flexible support tiers are a great thing to look for in your MSP as they better align with your unique requirements.
Fully Managed Service Model
Fully managed IT solutions often take over complete ownership of network equipment, allowing businesses to achieve a single monthly cost that is consistent and predictable. This can, however, limit customer access to their own devices. It is important to understand access limitations when entering a managed versus a co-managed agreement.
The co-managed option would give your IT staff the ability to escalate requests outside of their skill level to a team of qualified specialists who can assume ownership and steering the engagement from diagnostics, through root cause analysis, to resolution.
Co-managed Service Model
Using this model, the MSP would become an extension of your IT staff. End users may submit requests to the IT Support Desk. Once the submission is in queue, the IT support desk can then escalate requests that require specialized skillsets to the MSP. This approach uses a shared model where the customer, IT staff, and the MSP share responsibilities based on available resources.
MSP engineers supplement existing IT management teams and can provide a valuable resource for your team. With this service model, you can reduce your efforts by having the ability to escalate or hand off incidents and requests that exceed the available cycles or skills of the in-house IT team members.
Customer Managed Service Model
This approach is often used by companies who require ITSM tools, but not skilled engineers. The MSP deploys monitoring systems and routes alerts to the customer IT staff, who respond and directly diagnose themselves. The MSP may call for urgent alerts to ensure the customer staff is engaged in impacting outages.
This is useful for customers that aren't seeking to make initial capital investments in monitoring tools, along with labor and efforts to keep up with those tools. Organizations can also benefit from the MSP's mature processes without having to pay for engineering support.

As you can see, there are benefits to all service model options. Keep an ear to the ground for this flexibility as you continue your search for an MSP.
Why You Should Consider IE's OnDemand Solutions
In a post COVID ecosphere, where many employees reside in remote and home locations, IT teams can benefit from MSPs like IE who bring experience with remote workforce management. For your reference, we've highlighted some of the core OnDemand benefits that our customers have experienced.
High OnDemand SLA Achievement Rates
IE's managed solutions maintain premium service levels with regards to SLA and customer satisfaction. OnDemand SLA achievement rates consistently fall within the 97-99% range. CSAT levels average a positive feedback response averaging 96% across help desk, network, voice, and cloud teams within the OnDemand umbrella.
Global Capabilities
Since 1996 IE has deployed and maintained solutions across 6 continents. OnDemand services include a global network of resources across multiple regions offering multi-lingual capabilities. Services are available from the US, to China, Australia, South Africa, South America, to Europe.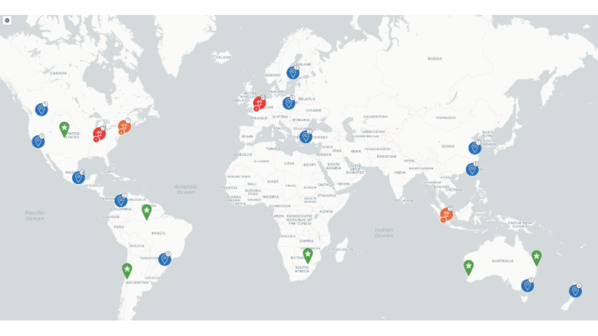 Vast Tech Vendor Network
Most networks today contain components from dozens, if not hundreds, of vendors. OnDemand has resources with skill sets for many major hardware and software vendors. Even lesser-known providers can be supported by IE's coordinated vendor support model. Below are some of the major vendors common across IE supported environments.
Don't see what you're looking for? Contact us for a full listing of our supported vendors.
Security
Security is a focus within OnDemand. Our platforms include enhanced data privacy and security controls to provide superior protection from network-based threats.
OnDemand Security Controls
Multi-factor access control systems
Data stored using AES-128 encryption
Data in transit is sent over TLS 1.1 or higher
SSLv3 and TLS 1.0 have been disabled in the environment due to know vulnerabilities
Non-secure transport protocols, such as FTP, have been disabled
Access to unnecessary ports have been blocked
Passwords are stored as non-reversible hashes with built in protection from brute force attacks
Access to client systems is logged and protected based on user security roles
Additionally, IE is recognized by Cisco as a Master Managed Services Partners are resides on CRN's MSP Elite 150. You have many options when it comes to a Managed Service Provider. We'd be happy to discuss our offering more in depth with you, or you can visit our OnDemand Managed IT Services page for more information.