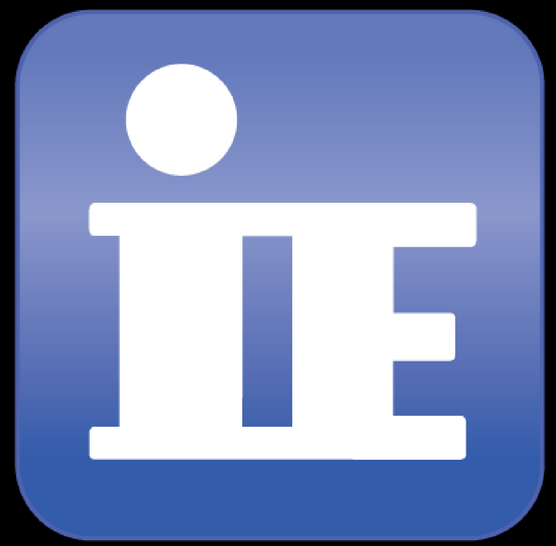 Webex Vs. Slack: Which Is the Better Team Collaboration Tool for Your Company?
With recent events pushing us all to move some aspect of our businesses online, many organizations have struggled to select the best collaboration tool for their company. Companies that lacked a work-from-home strategy engaged in the phenomena of Rapid Organic Technology Adoption (ROTA). Most organizations filled their collaboration needs quickly to accommodate the work-from-home order.
While there are many tools that can get the job done, you don't want to end up overpaying for features you never use, or worse, picking a cheaper option that doesn't have the versatility and security compliance that your organization needs. For any new tech adoption, make sure your IT department is aware of your selection and can ensure secure configuration.
With that in mind, when searching for a secure collaboration solution for your company, which features and functionality do you consider essential? We've compared two of the top names in digital collaboration via video conferencing and team communication: Webex and Slack.
Below we will compare pricing and subscription options, product offerings, integration capabilities, mobile app, and platform security. Let's determine which one will be the better fit for your organization.
Webex
and Slack Plans and
Pricing
Webex and Slack both offer four pricing plans. Below, we've detailed the plans that are available to the public.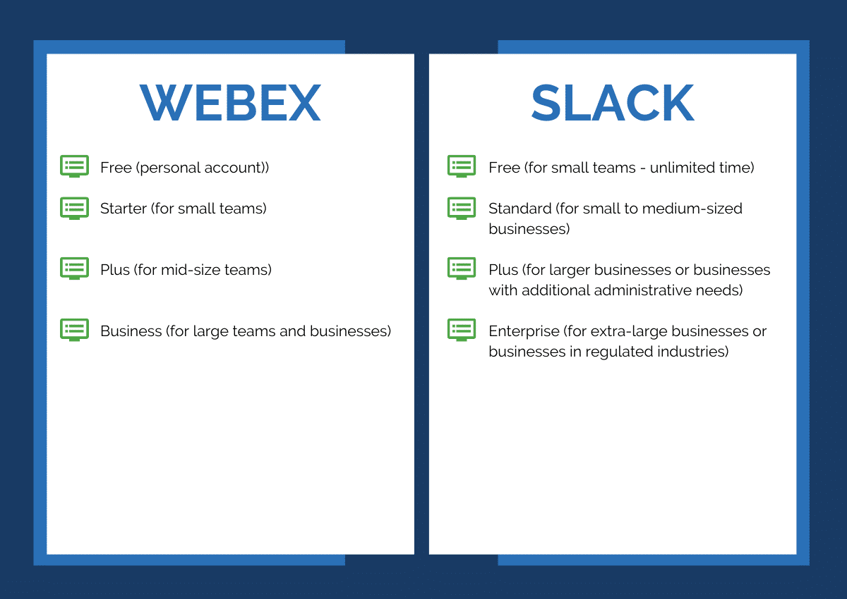 Winner: Tie
Both platforms offer plans to meet your organization's need. Keep in mind, that you will likely get better pricing and support by working with an IT Solutions Provider like IE.
Webex and Slack Product Offering Overview
Each of these platforms offer products and extensions to help you stay connected. While one may offer products, which are more in line with your need than the other, don't forget to look for potential drawbacks. Below, we've laid out the product offerings for each to help you distinguish available functions.
Webex
and Slack offer the following products
to cover communication needs.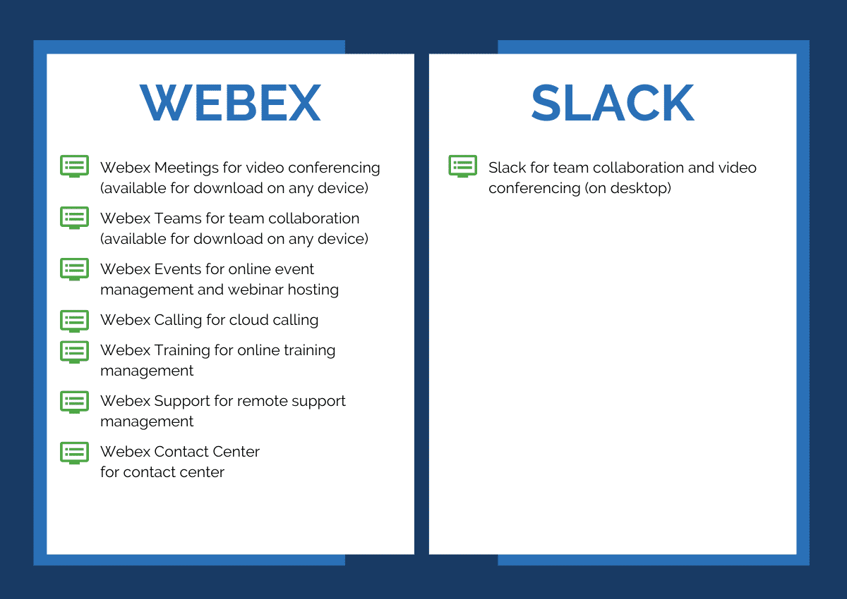 The impressive thing about these product offerings from Webex is that they apply the same security and compliance standards across the board. There is a Webex product for virtually any of your collaboration needs, whether it be creating a virtual incident response center, hosting a webinar, or simply staying connected with your team.
Slack operates a little differently in this department and relies more heavily on its ability to integrate various apps and tools into the workspace. It is highly customizable, but on its own it only has itself as the main product offering.
Winner: Webex
While Slack can link to additional tools (as we will cover below), its overall product offering is limited. Webex has a much wider range of platforms and uses to incorporate into your organization.
Webex and Slack Integration Capabilities
While features, products, and pricing plans are all important factors to consider when selecting a video conferencing solution for your organization, you need to make sure that this new tech "gets along" with your existing infrastructure, or you may have a redesign on your hands.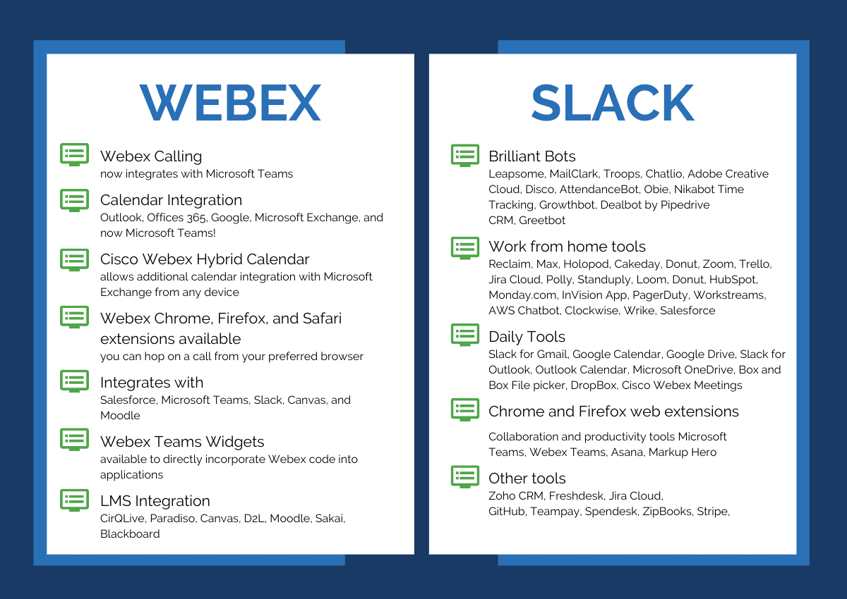 Additionally,
You can

use

Webex Teams APIs and SDKs to

integrate more t

ools your team may need.

Y

ou can configure the Slack API to integrate more tools that your organization needs.
The list of integrations for Slack goes on and on. For the complete list of Slack Integrations, click here.
Winner: Slack
Arguably one of the greatest features of Slack is its ability to integrate with such a vast array of tools. You can even use it along with Webex Teams and Cisco Webex Meetings. Ideally, you want to incorporate a tool into your infrastructure that can integrate with your existing system. While Webex has some helpful integrations, you can cover more ground with Slack, at least where integrations are concerned.
Webex and Slack Mobile App
How often is your team on the road or using their mobile phones to stay connected? Nowadays, mobile apps have been an essential part of business strategy, as they allow the versatility needed to keep everyone connected in whatever way is most convenient for them.
Webex
Cisco Webex Meetings
This app for IOS and Android easily allows you to start a meeting from any device where the app is installed. It works together with Webex Teams, so you can collaborate with your colleagues via chat and start a video meeting with the group from the same space.
Cisco Webex Teams
This app allows you to receive immediate notifications when someone direct messages you or says something within the working chat. As mentioned above, this integrates seamlessly with Webex Meetings, so all of your collaboration tools are in one space. You can link this app to OneDrive or SharePoint to drop files in team chats and start a whiteboarding session from the palm of your hand.
Webex Calling
This is the cloud PBX alternative to an on-prem PBX and offers both voice and video calling. You can use this app as a standalone calling app, or you can integrate it with Cisco Webex Teams and use it as a companion app.
Slack
Slack has a mobile app for IOS and Android phones. Users can create groups, chat with team members, start one- on- one voice calls or voice call meetings, and share files. It offers you all the capabilities of the desktop app except for video conferencing. You can create a call within a channel, and everyone can hop online, however screen sharing and video calling are not available.
Winner: Webex
For call and meeting versatility from the mobile app, Webex offers more capability for the end user. You can share files from SharePoint or Onedrive, whiteboard with your team or share your screen, join meetings, and so much more.
Webex and Slack
Security
Both Webex and slack leverage encryption to keep their platforms secure and both follow strict compliance standards to accommodate industries like Healthcare and Finance. We've broken down the security features for each below.
Webex
Webex is a Cisco product. In order to accommodate one of the largest global data center networks, it can't compromise when it comes to security, which is a foundational requirement for any collaboration technology. Webex offers flexible password management, robust data center security, role-based access, and secure end-to-end encryption. You can also integrate Webex Teams with any of your existing Data Loss Prevention applications for additional security.
Webex offers the following processes to protect your data,
Strong Encryption

U

s

er

Identity and access

Flexible retention and archiving

Fast, simple, highly secure search
Device and browser protection

Ability to see user activities by setting risk-based access policies

Force PIN-lock and remote wipe

compromised

mobile phones

End-to-end encryption for messages, files, and whiteboards

E

Discovery



Below, we've detailed Webex's current certifications and compliance standards for security & privacy, regulatory, and cross-border transfers.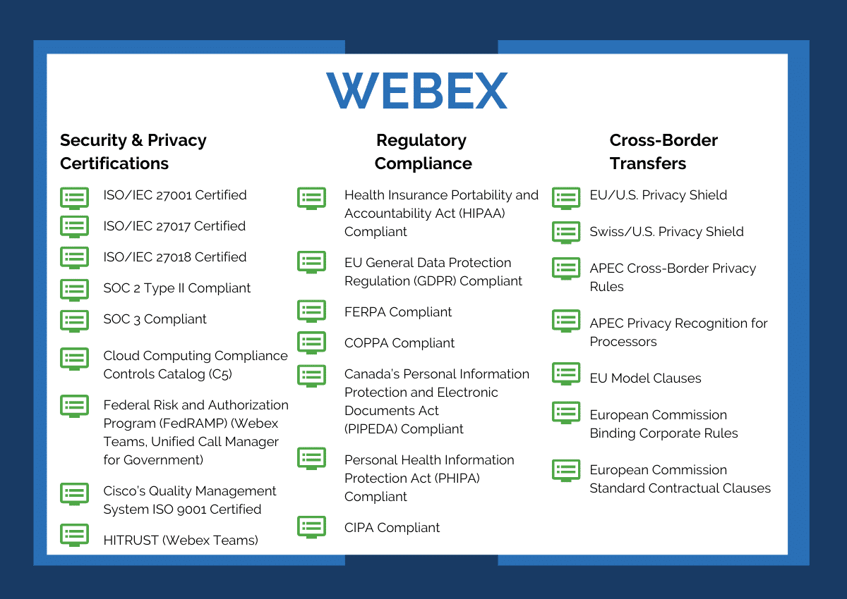 For the full list of Webex security features, click here.
Slack
Slack offers the following security measures for control visibility and flexibility.
Identity and device management

Data protection

Information governance

Supports two-factor authentication

Single sign-on via authentication protocols (industry standard)

In transit and at rest data encryption

DLP, EMM, eDiscovery, and archival partner integrations
Bug Bounty program to actively find and address any vulnerabilities or issues

Below we've listed Slack's current certifications and compliance standards for security & privacy, regulatory, and cross-border transfers.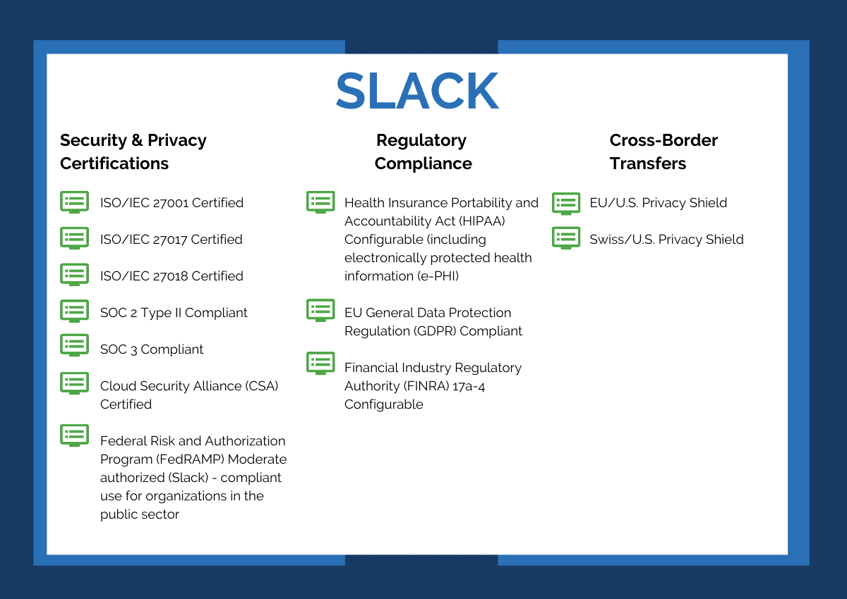 For more information on Slack's security standards, click here.
Winner: Webex
While both platforms offer expansive security coverage, Webex simply covers more ground. For full capability, Webex also relies less on integration, which may contribute to its success in the security department.
Webex
vs Slack:
The Verdict
Let's summarize,
Webex

and Slack had comparable pricing and plans


TIE

Webex

had more product offerings


WEBEX

Slack dominated the integration capability category


SLACK

Webex

had a more versatile mobile app


WEBEX

Webex

slid by with a win in the security department


WEBEX
Based on the areas we explored in this article, we have determined that Webex better meets the needs outlined. However, it really depends on what your company is looking for. While Slack may not have swept this round, it still offers incredible integration and configuration capabilities. Webex grabbed victory this time! But don't take our word for it that Webex is a much-needed addition to any team - Try it for free.
IE & Cisco Webex: Let Us Help You Bring Your Team Together
Ready to give Webex a try? We can create a custom configuration that addresses the specific needs of your company. As your IT solutions provider, we help you address common collaboration issues and provide tiered adoption services options that quickly onboard your team, accelerate adoption, and achieve a faster ROI.
If your organization would like a free 90-day trial of Webex video conferencing software, contact us for more information. We look forward to helping you find the best video conferencing software solution for your company.
For more information on Webex, visit their website at www.webex.com.