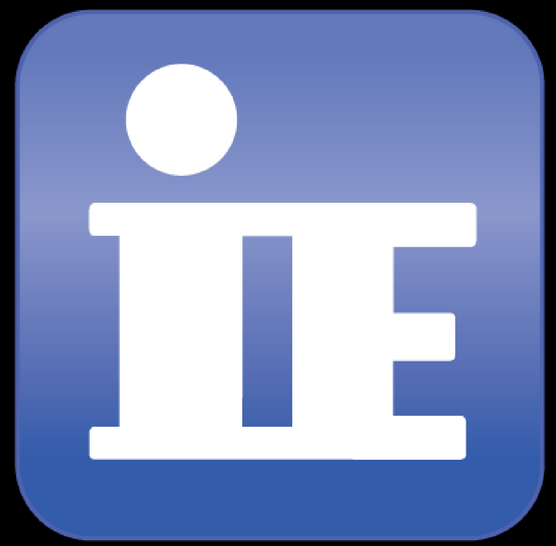 [VIDEO SERIES] How to Create a Virtual Incident Response Center Using Webex: Part One
The COVID-19 Pandemic has tested companies on a global scale in their work-from-home environments. This has been especially true for companies that have quickly adopted collaboration solutions to ensure that when an emergency incident occurs, they can bring together their Incident Response Team (IR) members to promptly handle the situation.
Whether it is a pandemic causing immediate closings of your physical locations, an active shooter on a campus, inclement weather, or cyberthreats, lacking the right collaboration tools to empower your team to easily share information and increase time to resolution shouldn't be one more issue to deal with during a crisis.
Has your team created a virtual incident response center? If not, watch the first video in our series to see how you can use Webex Teams to overcome common IR challenges like delayed responses because of staff visibility and improper escalation.
This session will cover the initial incident response request and scheduling the Webex Teams meeting. Enjoy!
*Music Credit: www.bensound.com*
---
Part 1: Virtual IRC Video Script
Hello and welcome, Internetwork Engineering presents, How to Utilize Webex for a Virtual Incident Response Center.
This is part 1 of a 4-part series, this session is about the initial request and the scheduling of the team meeting.
While John is working in Webex Teams doing his normal daily tasks he receives a message from his manager about an incident. John needs to get the IRC team on a conference to create the response document.
John quickly creates a team space in Webex Teams to start collaborating with the Virtual IRC team.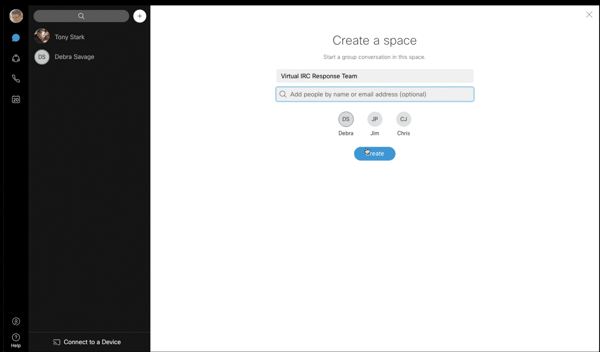 Each member of the team receives the message and responds with how they are going to attend the meeting.
As each member sends their response it is instantly available to each team member to see and respond to appropriately.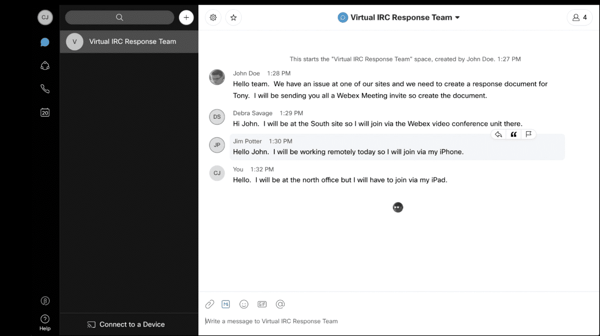 John responds back to the team he will be sending a Webex meeting out shortly.
John opens his calendar and creates an invite. John includes all members of the Virtual IRC team.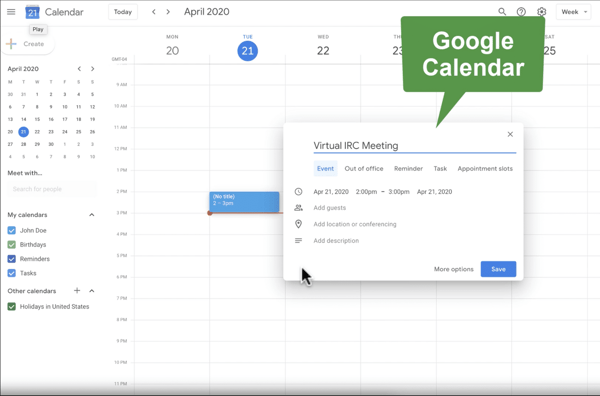 Then changes the conference type from Google to Webex personal meeting room and sends the invite out to the members.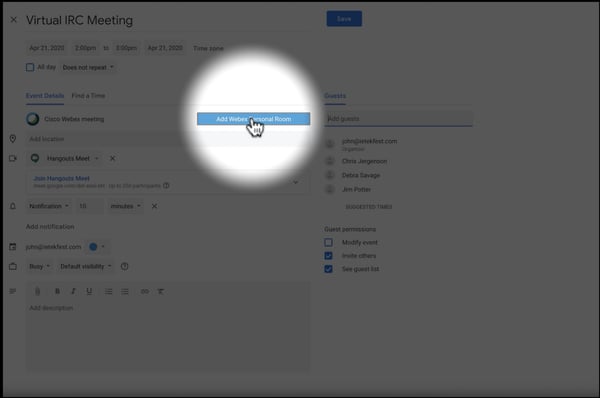 Thank you for watching our video. Please watch the other videos in the series.
If you would like to speak to us about helping with your Webex environment, please email us at sales@ineteng.com or call us at 704-540-5800.
---
Get Started with Webex
Are you looking for a way to bring your Incident Response team members together both virtually and securely to quickly communicate incidents and keep your organization better informed? Using Webex for your own company's Virtual Incident Response Center can help you collaborate when reliable and accurate information is needed most. If your business needs a Webex account for 10 or more users, than our Free 90-day Corporate Trial would be a great fit for you.
Already have a Webex Subscription? We offer Webex Adoption Services to help with initial deployment and end-user training.
We've also compiled additional free resources to help you during the COVID-19 crisis and beyond. Visit our Business Continuity Resource Page for more details.