Team Collaboration Software Introduction
In this overview, we'll discuss the overarching considerations that affect organizations when making the switch to virtual collaboration technology. Stay tuned for the two follow-up articles that will compare popular solutions and highlight issues impacting each prospective option's level of effectiveness for organizations. Let's get started!
Will Work from Home Continue Post COVID?
The COVID-19 pandemic has pushed the work force home in a way no one could have foreseen. According to a recent survey from Nemertes Research, over 90% of companies are supporting Work from Home (WFH). The same survey uncovered that less than 13% say they will discontinue WFH when things settle down. WFH is the "new norm" and budgets are being redirected to WFH products and services.
In the early part of 2020, many companies were frantically focused on scaling and securing remote access. Companies are now struggling to re-create the collaborative interactions that naturally took place in an office. Many are turning to team collaboration apps for promoting productivity and staying in touch.


Cloud or VPN for the Remote Workforce?
Cloud-based services more efficiently support a distributed workforce rather than funneling all traffic through VPN and a central datacenter. Thankfully, the push to cloud-based services started well before the pandemic and many companies had already moved portions of their business to the cloud, or at least got their feet wet. A good majority of email has moved to cloud offerings like O365 or Google Mail. Instant Messaging (IM) solutions like Skype for Business or Jabber are premise-based, however. Teams applications continue the trend by leveraging cloud-based technology.


What are Key Considerations for Implementing a Teams Messenger?
Most companies have not fully deployed a Teams app and are looking for answers to which platform is best for their organization. Every vendor wants you to use their solution. With that in mind, does IT choose best-in-breed for each collaborative function or do they choose a solution based on their existing vendors in an attempt to standardize, even if that means making sacrifices in order to do so? What are the key considerations to be aware of when choosing and implementing a Teams environment?
In this short series, we break down the good, the bad, and the ugly about the various Teams solutions and what the vendors may not be telling you. Keep in mind that each offering is changing rapidly, so make sure you're subscribed to the IE blog for the latest updates and the next two pieces of this series:
Find the Best Collaboration Tools for Your Company
Every company has their own unique needs for team collaboration, especially in the virtual sense. Get ready to take a deeper dive into Collaboration tools with our two follow-up articles. In the meantime, if you need further advice or recommendations on how to get the best solution for your buck, contact our team of experts. We can analyze your current system, pinpoint areas of improvement, and make recommendations that will allow you to achieve your collaboration goals, and ultimately save you money and headaches in the long haul.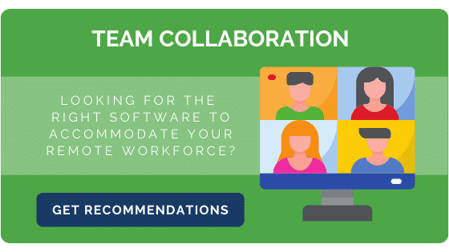 Sources:
https://nemertes.com/the-global-workforce-forever-changed/