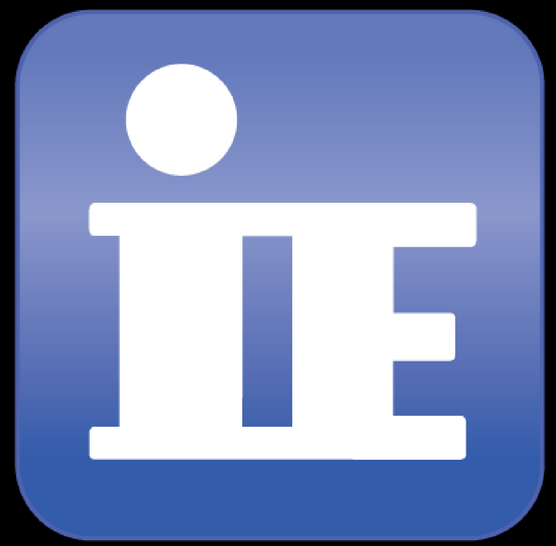 How SD-WAN is Improving Business Outcomes
Twenty years of change in technology has created new types of businesses and disrupted entire industries. The current shift from Multiprotocol Label Switching (MPLS)-based networks to Software-Defined Wide Area Network (SD-WAN) is such a game changer as organizations rely more and more on mobile devices, IoT and media-rich applications to perform a wide range of activities in order to create gains in productivity, efficiency and cost reduction.


Indeed SD-WAN is disruptive to a market that has been stale, and focused on an MPLS Network topology for the past 20 years. SD-WAN is the result of two emerging technologies:
Hybrid networking to transport business applications and data via Internet and mobile connectivity as alternative platform to MPLS
Software solutions that provide central management and control over the WAN Routers, often deployed globally or in locations with limited local IT resources

Using these two technologies, hybrid networking and centralized software control, developers have created SD-WAN as a solution to help organizations provide a network architecture to meet their business needs regarding:
Agility - to quickly deploy new services and applications throughout the WAN network
Flexibility - to leverage the best available network connection to provide access to traditional data centers as well as Cloud environments
Insight & Control - to ensure secure operations and insight into the usage of the services offered on the WAN
Cost - to reduce overall networking and IT infrastructure cost.
WHAT DO THESE BENEFITS LOOK LIKE[1]?
Savings of $20 million on Operating Expenses (OpEx) over three years for a retailer
An 80% reduction in cost/Mbps for a national insurance provider
Achieving 100% application uptime during network failures for a national food distributor
A 5-fold improvement in Office 365 performance for an energy provider
A 4-fold improvement in application latency for a healthcare provider
A 12-fold improvement in change control time for a 3,000-site bank
Completing M&A integration in under 2 weeks for a Fortune 50 healthcare provider
Deploying guest wireless service at more than 1,000 stores for a retailer
Securely isolating more than 100 business partners for a manufacturer with more than 1,000 sites in the US

BUT WHY THE NEED FOR SD-WAN?
Traditional wide area networks—based on Multiprotocol Label Switching (MPLS)—can't cope with the exponential increase in bandwidth, cloud connectivity optimization, and enhanced security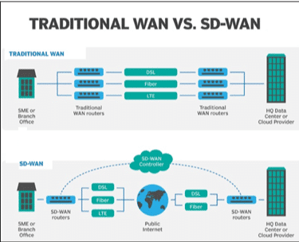 necessary to deliver the kinds of benefits shown in the bullet points above.
To enjoy such benefits, organizations need an enterprise-grade SD-WAN solution that uses intent-based networking.
Other solution requirements include a carrier-and transport-agnostic cloud-delivered overlay WAN architecture.
Such an SD-WAN solution radically lowers WAN costs, cuts deployment times, offers application resiliency and provides robust security.
WHY BUSINESSES ARE MOVING FROM MPLS TO SD-WAN
Seen side by side, the, the limitations of MPLS and the advantages of SD-WAN are undeniable. And just as other advances in technology have enabled entirely new ways of doing business, SD-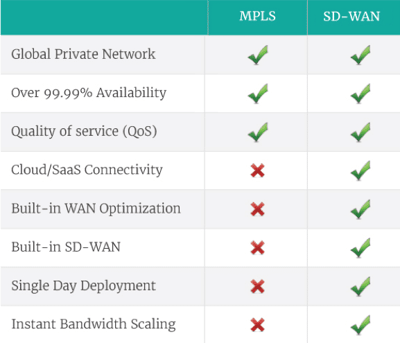 WAN provides a boon to organizations seeking not just to do more with less, but to transform how they do business.
By lowering costs and enabling video applications and other bandwidth-intensive applications, SD-WAN makes it profitable for companies to create new initiatives, get into new businesses and offer customers greater customization—all while upgrading security.
From a pure dollars-and-cents-perspective, SD-WAN lowers WAN OpEx and CapEX, provides greater business agility and responsiveness, cuts provisioning times, increases branch up time, enhances application performance across the WAN, offers extensibility to 3rd party products via service chaining, assures business intent with advanced application visibility and control, and ensures robust end-to-end security.
To learn more about how we're working with Cisco to offer our customers enterprise-grade SD-WAN solutions, download: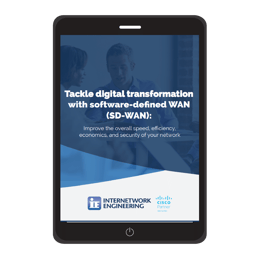 eBook: Tackle Digital Transformation with Software-Defined WAN (SD-WAN)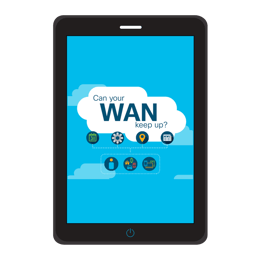 Infographic: Can Your WAN Keep Up?
[1] Enterprise Grade SD-WAN, https://www.cisco.com/c/dam/en/us/solutions/collateral/enterprise-networks/sd-wan/nb-07-enterprise-grade-wp-cte-en.pdf (accessed December 19, 2017)