Implementing Cisco DNA in Your Organization
Update: Jaymes Krueger has recently posted an updated Cisco DNA Center blog: "Debunking the Top Cisco DNA Center Misconceptions." (March 2022). Read it here.
___
The events of 2020 have already presented challenges to organizations across the globe. As businesses have rushed to implement work-from-home models, IT professionals have felt the sudden and expansive demands of maintaining secure network connectivity for a large number of people housed in various locations. Simplicity and efficiency have been key for ensuring smooth business continuity in this new, remote environment.
With that in mind, is this the year to seriously consider implementing a Digital Network Architecture (DNA)? In fact, should you even care about Cisco DNA? There are many factors to consider when deciding whether Cisco DNA is the right solution for your business. A few questions to explore are:
Is DNA mature enough?
Are your peers in other companies using it?
Is it being fully implemented or used?
Does Cisco DNA introduce more complexity than value?
Will your company really benefit from DNA?
Who Would Benefit from Cisco DNA?
While every case is different, if you have a network with only 15 total switches, it might not be as important or cost-effective to implement DNA.
Cisco DNA would be a benefit to your organization if...
You are a retail company with small networks at hundreds of locations. For this sizable operation, configuring Meraki for Cisco DNA spaces could offer a huge benefit and simplify your processes. Meraki covers everything from security, to switching/routing, to cameras, and it performs upgrades for you.
You have a large campus or multi-campus network
You are required to have an air gap to cloud (or private cloud)
How You Can Ease into Cisco DNA
Most organizations don't dive into DNA head-first. Why? Because very few have a greenfield opportunity that wouldn't impact mission-critical functionality and services. However, you can get started down the path of DNA following some very simple steps.
Purchase DNA-ready hardware. To start, you can run them in traditional IOS-XE mode and convert them later.
Order the appropriate licensing for your needs.
Implement Analytics and Assurance (included with Cisco DNA Center). The analytics engine collects, stores, and analyzes immense amounts of data, provides performance baselines, historical data, and valuable health scores in an easy-to-use dashboard. It is a valuable management tool.
Set up a DNA lab.
Deploy a new building or refresh an area of the network using DNA. A bridge can be built to the rest of the legacy network for interoperability.
How to Utilize Your Cisco DNA Server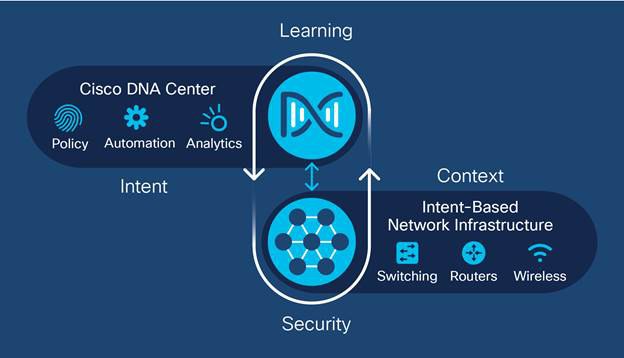 Photo credit: Cisco.com
Leverage Cisco AI Network Analytics
This Cisco DNA Assurance capability allows you to manage all services and devices, and prioritize and resolve network issues, which ultimately results in a better overall user experience.
Take advantage of Security Group Tagging (SGT)
Security Group Tagging allows you to view the privileges of each source within the entire network, all from a single label. This allows for maximum visibility and makes securely managing IoT devices much simpler.
Implement Encrypted Traffic Analytics (ETA)
This allows you to detect malware within encrypted communications.
Utilize Path Trace
The Cisco DNA Center controller collects and reviews routing data and network topology from discovered devices once a path trace has been initiated. (this can help visualize the flow and test the network proactively)
Make Use of Intent APIs
Intent APIs allow you to create workflows that consolidate and simplify multiple network actions at once. This cuts down on manual processes which frees up your time while still accomplishing the designated tasks.
Are you Ready to Simplify Your Infrastructure Management with Cisco DNA?
DNA Center and SDN are the future of campus networking. IE consultants are experienced in all phases of DNA deployment and can help you determine how it can best be used for your organization. Tech success comes with constant innovation, a progressive mindset, and exceptional customer experiences. Get ahead of the technology curve and schedule a meeting with Internetwork Engineering. We'll analyze your specific business and deliver the custom-tailored IT solutions that you need to stay competitive in today's ever-changing age of tech. Let's find out if Cisco DNA is right for your business.