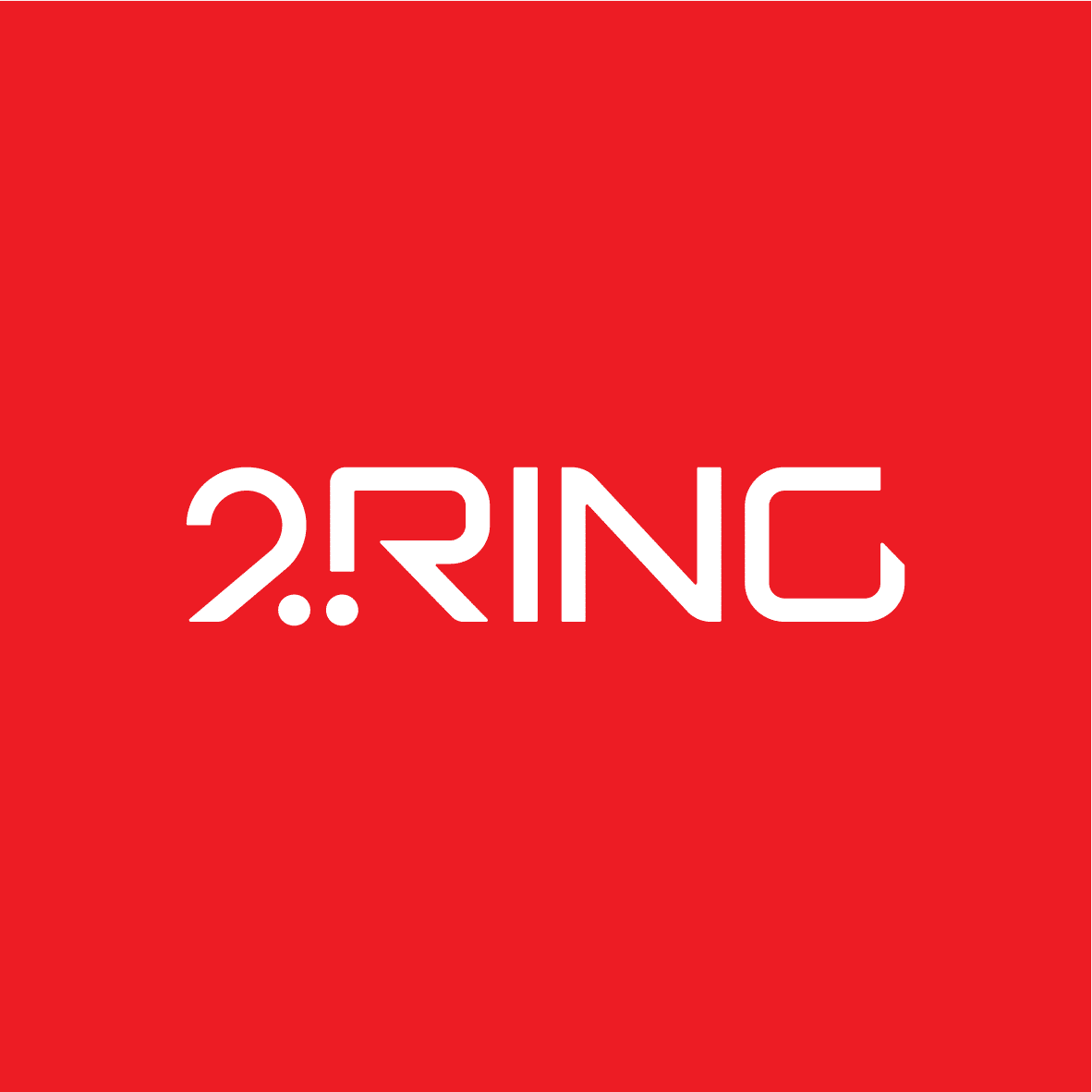 By: 2Ring on September 25th, 2020
2Ring: How to Affordably Integrate your Apps with Cisco Contact Center
Guest blog alert! We're excited to have Michal Grebac, Strategic Sales & Marketing Director from our partner at 2Ring joining us in the blogosphere today to talk about "How to Affordably integrate Applications with Cisco Contact Centers."
Michal has delivered hundreds of live WebEx demonstrations of Cisco Finesse with 2Ring Gadgets and collected valuable user feedback from thousands of contact center supervisors and directors.
This blog post is a practical and easy-to-read introduction to integrating CRM, Service Desk, or any other line of business applications with Cisco Contact Centers and thereby also an introduction to enabling automation for agents and supervisors.

Why Listen to 2Ring?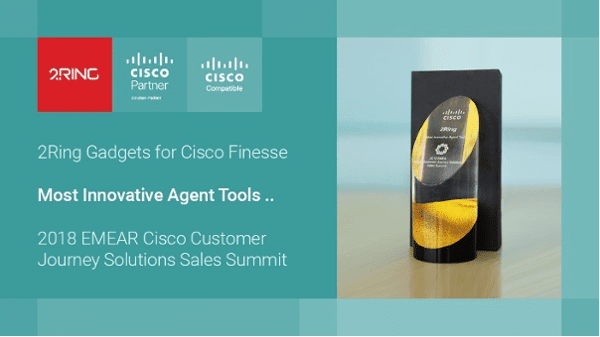 2Ring, a Cisco Preferred Solution partner, has been providing value to contact centers around the globe for almost 20 years. 2Ring Gadgets for Cisco Finesse is already used by hundreds of thousands of agents and supervisors globally. In 2018, 2Ring received an award from Cisco for the most innovative agent desktop tool (click here for more information). 2Ring solutions, services, and support are available directly from Cisco's price list.


Integrations Used to be Expensive and Delivered Limited Benefits

Integration of 3rd party applications (CRM, Service Desk, …) with Cisco Finesse has been a hot topic since the first release of Cisco Finesse in 2011. Shortly after Finesse was released, 2Ring was involved in the first deployment of Cisco Finesse in Europe. Back then, businesses were interested in integrations, but such projects were expensive. The benefits usually ended with a basic CRM screen-pop based on a calling number. As a result, only large contact centers were able to integrate their contact centers with their CRM.


However, a lot has changed since then ...
APIs offered by major (Salesforce, Microsoft Dynamics, ServiceNow, SugarCRM), as well as other minor and market niche CRM players have evolved significantly. When you combine powerful APIs with pre-created integration options that are part of 2Ring Gadgets for Cisco Finesse and run this combo in modern browsers (Google Chrome, Firefox, or Edge-Chromium), a powerful set of integration capabilities emerges. More details can be found in these older release notes Gadgets 4.3 – ad-hoc integrations.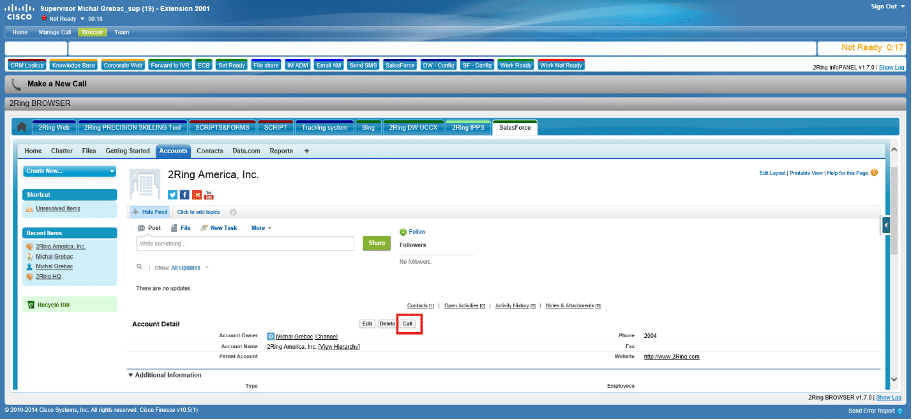 Cisco Finesse 10.5 with Salesforce UI embedded in 2Ring Browser Gadget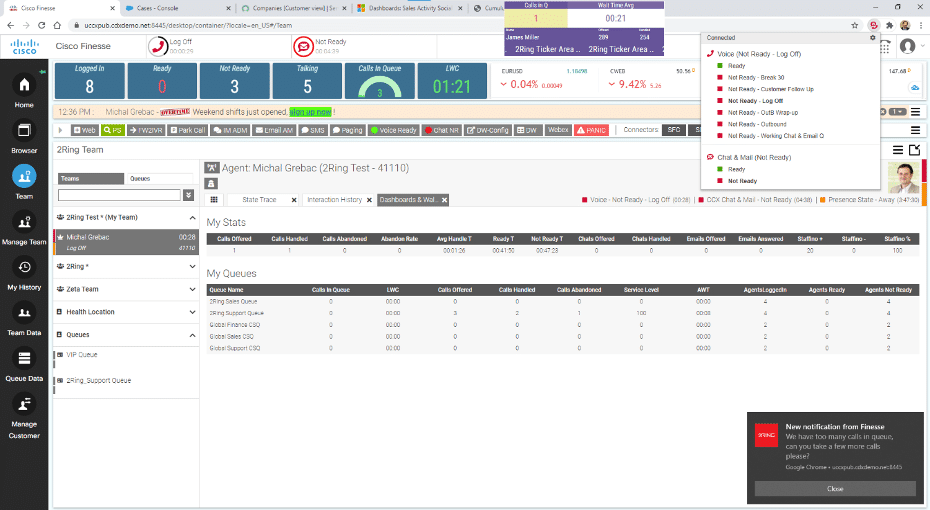 Cisco Finesse 12.5 with 2Ring Gadgets for Cisco Finesse 5.1

Why Integrate?
Simply put, integrate to decrease handle times while at the same improving customer & employee satisfaction. When agents can quickly verify whom they are speaking to, authenticate callers, and then automatically pre-create tickets or service requests, it reduces handle times significantly while improving customer satisfaction. Read our blog about CRM integrations with Cisco Contact centers here or by clicking on the 'blog' icon on the left-hand side. From our observations, Computer Telephony Integration (CTI /screen pop) reduces call times by an average of 15 to 20 seconds. The reduced handle time per agent is anywhere from $788 to $1,051 per year (40 calls per day, $14 per hour, with a 1.3 loaded payroll cost). What this means is that even small and medium sized call centers (50 to 75 agents) can have advanced features to improve customer & employee satisfaction and get a Return on Investment (ROI) in 12 to 24 months.


Estimated Savings (in USD) and RoI due to Decreased Handle Time ...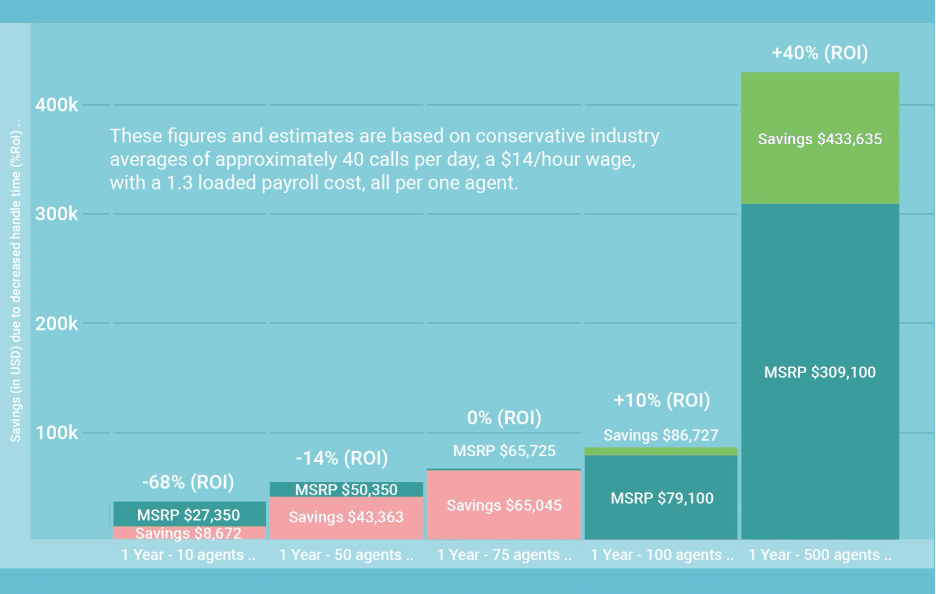 Why 2Ring?
2Ring helps to bridge the gap of out-of-the-box and bespoke solutions. It provides easy to assemble building blocks and standardized out-of-the-box integrations for Salesforce, ServiceNow, MS Dynamics & SugarCRM.
Even with out-of-the-box integrations, 2Ring can enhance the agent experience by building simplified input forms for CRM/ITSM systems, allowing the user to stay in Finesse most of the time. Bespoke integrations are typically costly; however, 2Ring's integration leverages existing APIs & points to backend databases. This reduces integration efforts significantly, with most bespoke or custom integrations taking up to 48 man-hours to put in place.

Flexibility
Cisco Finesse has a team-based configuration and thus, every contact center team can decide what the integration and automation should look like. The concept of team-based configuration enables 2Ring to deliver different sets of Cisco Finesse gadgets and enable different behaviors based on your requirements.



Cisco Finesse – every team can decide which Gadgets they want to use and what the configuration of these gadgets should be. Gadgets can present different options to agents and different options to supervisors as well.

Which application should your users live in?
There are two common approaches when attempting to bridge the gap between Cisco Contact Center and a CRM or a Service Desk software.
Let's discuss the pros and cons of each:

Approach A: Live and Breathe in the CRM
One approach is focused on living exclusively within the confines of the CRM/Service Desk habitat. This requires bringing Cisco's agent state and call control into a CRM's UI. It is usually a costly solution that results in agents using a UI that was built with a one-size-fits-all mindset and often comes with slower screen-loading times. Contact center agents are overloaded with information that they don't need and at the same time lack the information that they desire – agent, team, or queue performance data, agent schedules, alerts, and easy access to help from within the contact center or from the back-office.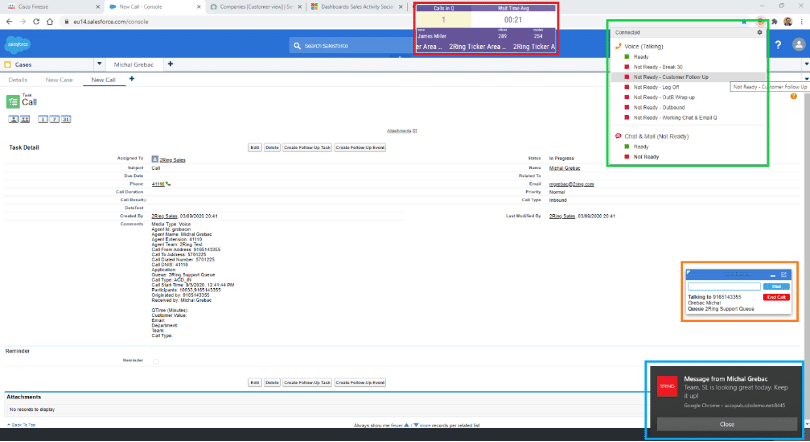 Salesforce integrated with Cisco Finesse. An Agent is on a call and using Salesforce Console Mode. The customer was identified using the caller's number; a new case and new call details were automatically created on the call's arrival. Dashboards Power-App floats on top of all the application windows to always show the agent the # of calls in queue + his personalized metrics. Toast Alerts at the bottom right provides updates – in this case, it displays a short message from the supervisor. Finally, a browser extension shows the agent their current call center states and allows them to change the state from any browser tab.
Approach B: Live and Breathe in Cisco Finesse
The second approach revolves around bringing the CRM/Service Desk directly into Cisco Finesse, which now allows agents to edit data within Finesse without ever having to leave the Finesse tab, a benefit that maximizes efficiency. The interface is simplified, and agents only interact and see what they truly need in order to fulfill their tasks and duties. On top of this, agents have access to all the other gadgets, right within Cisco Finesse, providing access to performance metrics, team updates, call recordings, customer journey data, workforce schedules, and so much more.
This contact center centric approach allows for both Event and Button Click based task automation which in turn lowers costs and increase performance. Furthermore, alerts and notifications can be delivered to agents and supervisors – e.g., on Redirection on No Answer (RONA), calls in queue, short/long calls, long break times, WFM schedule adherence violations, etc. When agents use multiple systems such ERP, CRM, Hospital Management Systems (HMS), Hotel/Gaming Managements Systems or Banking software, agents can quickly and easily select which system to interact with depending on the type of task at hand.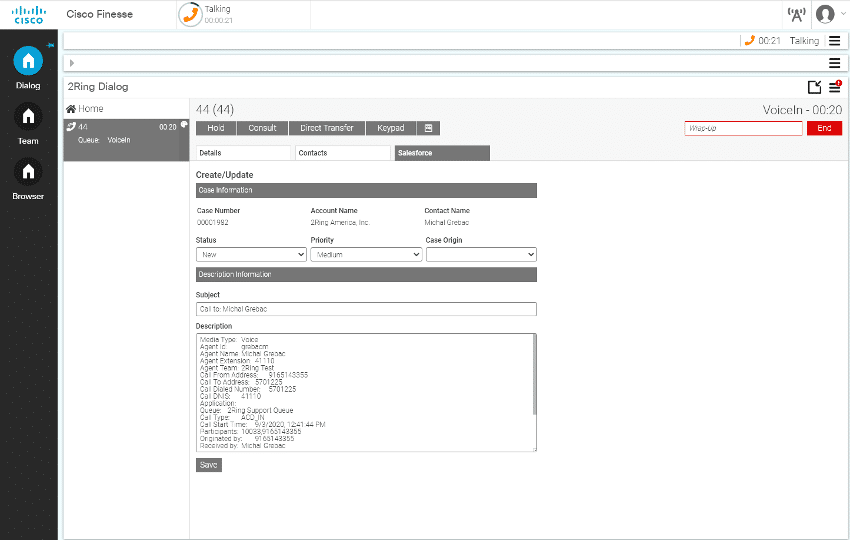 A Salesforce profile app inside Cisco Finesse for creating and updating tickets.


To see ad-hoc integrations in action, check out the video below that quickly illustrates just how truly unifying 2Ring Gadgets for Cisco Finesse can be.



Approach A+B: Mixed Mode
Both approaches can also be combined. This is what we call a mixed mode deployment. 2Ring makes it possible for agents to work and function within the UI of the primary CRM/Service Desk system while having all the capabilities provided in the Finesse-based solution. With this type of integration, agents log in to their Finesse desktop, open and log in to their CRM/ITSM system, and will then "live" in the CRM/ITSM application for their shift.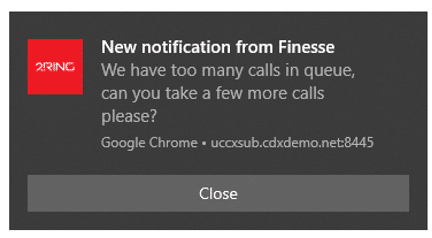 Toast alerts pop on top of all the application windows and keep agents in the loop, no matter which application they are currently working in.

With this approach, agents get alerts about higher call volumes or scheduled breaks; are notified when their shift is almost over (see more on our integration with Calabrio's WFM in our Gadgets 5.1 release notes); and have immediate access to their personal metrics, state and interaction history. Most importantly, supervisors have superior visibility into agents' performance.
2Ring Gadgets for Cisco Finesse offers a cost-effective and efficient ad-hoc integration of Cisco Contact Centers with various CRM and Service Desk systems. 2Ring Gadgets do not lock call centers into a single CRM system; instead, it allows agents to integrate with multiple systems simultaneously such-as Salesforce CRM. 2Ring Gadgets have been developed in such a way that it makes it very easy to integrate with many 3rd party CRM and Service Desk systems, even those that were developed by in-house developers. 2Ring Gadgets seamlessly integrate Cisco contact centers with most, if not all of the major CRM and Service Desk applications, the further the solution is built to easily create ad-hoc or custom integrations with market niche solutions. Below are industry specific examples:


Hospital Management Systems

Hotel Management Systems
Hospitality/ Gaming Systems

Credit Union & Bank Software

ERP Systems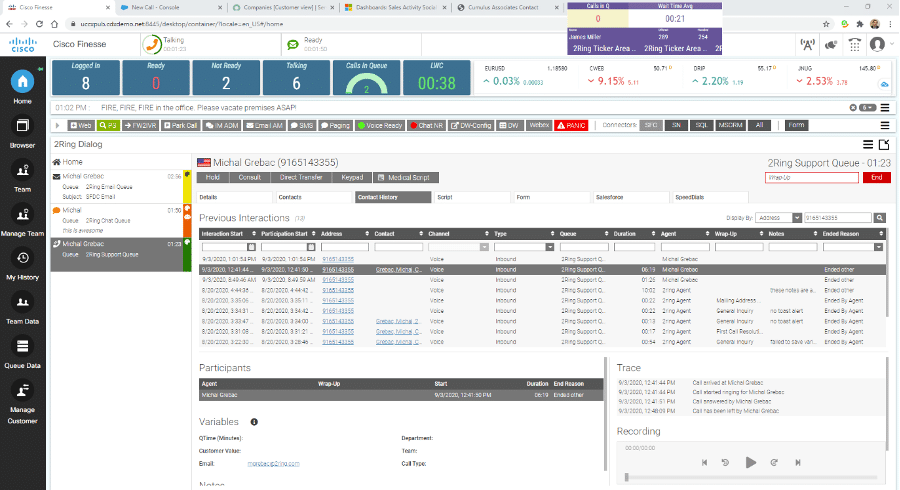 Cisco Finesse 12.5 with 2Ring Gadgets for Cisco Finesse 5.1 – the agent is currently working on a call, chat and email in 2Ring Dialog Gadget.

Where to Learn More?
To schedule a live demo and a personalized and guided walkthrough of 2Ring Gadgets for Cisco Finesse with one of 2Ring's product experts, please visit www.2Ring.com/webex or reach out to us here at IE.