Looking for a Better Video Conferencing Solution?
Get your FREE 90-day Webex trial and start increasing your business reach, no matter the distance.
Why Try Webex?
Webex uses cognitive collaboration and People Insights to create a more convenient virtual meeting space for you and your team. In times like these when remote work is a necessity, you need a reliable solution that won't cause frustration for your team.
To assist you with your company's work-from-home strategy in light of the COVID-19 pandemic and self quarantine, we're offering you a FREE 90-day corporate trial to use during this unprecedented season when remote work is at an all-time high.
IE's Webex

FREE Trial

Offering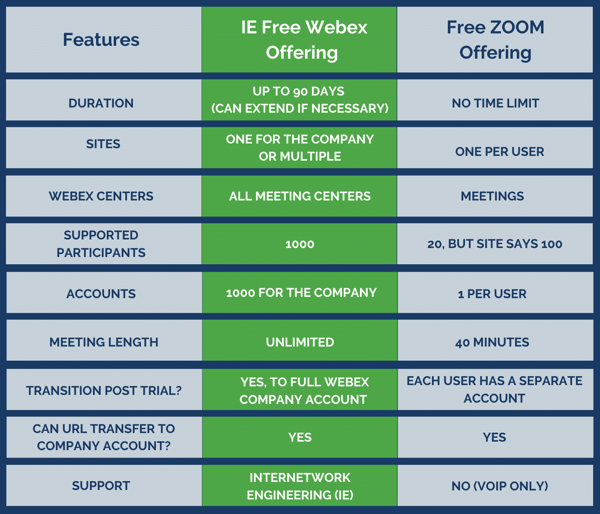 Request Your
Webex
FREE 90-Day Corporate Trial
The Corporate Trial May Not Be For You If...
1. Your company needs less than 10 account users.
>>> The Webex FREE individual Account is a better fit for you.
2. You already have a Webex Subscription.
>>> Try our Webex Adoption Services for end-user training.
Below, we've detailed what this offering includes. To request this free trial, simply fill out the form and our Webex specialists will reach out to you.
What Our Webex Customers are Saying...
"Our successful transition to a remote workforce with minimal business interruption can be attributed to our critical partnerships with Internetwork Engineering (IE) and Cisco prior to and during the Coronavirus health crisis. The Cisco Webex and Collaboration Flex solutions that IE recommended and helped to implement were crucial for our smooth transition. Our senior leadership was very pleased with the products and services provided by these partners."
What's Next?
Once you've implemented Webex, then what? For help with initial deployment, end-user training, and monitoring, try IE's Adoption Services.
Get the most out of your subscription!