Transition Audit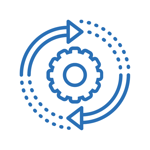 Install Base Data Pull
The first step to understanding your current environment is to pull your install base data. With the data set complete, our CX Team of data wizards perform a thorough, independent analysis and develop a clear, concise summary by architecture type for ease of conversation.
Install Base Asset Review:
During the Install Base Asset Review, our CX team will use the Install Base Data to guide the conversation. We'll ask questions crucial to learning more about your current environment and infrastructure goals. This information will be noted and incorporated into the overall strategy to help guide ongoing reviews.
Strategically review consumption model options:
With a firm understanding of your environment, our CX Team will offer suggestions to help you avoid support and entitlement issues while optimizing the timing of renewals for hardware, software and subscriptions. When appropriate, we'll also recommend alternative consumption models to help you save money and provide flexibility for projected growth.